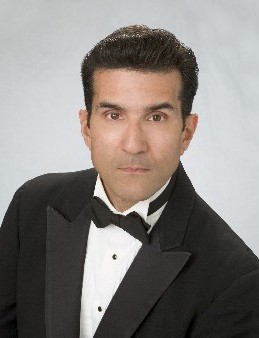 John Carelli is an exciting performer in the grand tradition of the classic Italian tenor. Audiences are thrilled as they listen not only to the richness of his voice, but to his skillful and passionate renditions in a wide variety of musical styles. His repertoire contains a broad mix of Italian and American favorites, including well known Neapolitan and operatic numbers and popular American standards, many from the Broadway stage.

Born in Brooklyn, NY and raised in northern NJ, John discovered singing at a young age. He soon found himself performing in a wide variety of venues and musical styles, both as a soloist and
with choruses and close harmony groups both large and small
. He has been a vocalist with a swing-era style "big band", and has sung in concerts, religious services, and other productions in vocal styles ranging from Broadway theatre to opera, operetta, and oratorio.
Along the way, John was selected as a winner in the annual Philadelphia Eagles National Anthem Competition and has performed the National Anthem at games for the Eagles, the Philadelphia 76ers, and for a variety of other sporting events, at both the amateur and professional level.
John's interest in performance eventually led him to theatre. On stage, John's credits include a leading role as Horace Vandergelder in Allentown, Pa.'s Munopco production of Hello Dolly. He has also appeared in MunOpCo's Jekyll and Hyde and in Vintage, at the Pennsylvania Playhouse in Bethlehem, Pa. At Allentown's Civic Theatre, John had the opportunity to showcase his operatic skills as the tenor in Terrence McNally's Master Class.
Despite these varied experiences, John continues to find himself drawn to music that reflects his heritage, and complements his strong tenor voice. He has sung on numerous occasions, in public festivals such as New York City's San Gennaro Festival in Little Italy, and in venues such as the Sands Casino in Bethlehem, Pa. and Penn's Peak in the Poconos, as well as in a variety of other concerts and affairs, both public and private, large and small. In addition to these live performances, John has recorded and released his debut CD (hear selected tracks), making his music available to a wider audience. No matter the occasion or size of the audience, John's performances never fail to excite!